Who Are We? The Story So Far
Where it all began….
Like many good ideas, the concept for a South Island wide company providing electrical, plumbing, drainage & underground services was conceived over a cold beer. One hot summers night on the shores of Lake Benmore, old friends Damon Stewart & Mark Dooley sat, chewing the fat & brainstorming about a potential collaboration of trades.
With both Damon and Mark being very driven individuals, it was a mere 4 months later that the South Island Group became a reality. With the support of their parent company, Damon, Mark and their fellow directors saw their vision come to life. Both Mark & Damon bring a wealth of experience in all facets of the industry & the members of staff they've employed since conception are all highly skilled, valued members of the team.
Initially they focused on the electrical and plumbing brands but have just recently added drainage & underground to the company portfolio. South Island Group are very lucky to have an incredible base of loyal customers, suppliers and of course the most important factor our loyal staff.
Our motto – Anywhere, Anytime " runs true everyday as our tradies tackle all tasks from renovations, new housing, rural properties & maintenance to commercial work. Providing services to holiday homes in Twizel and supporting the Westport & Ashburton communities rebuild from recent floods are just some of the examples of going that extra mile for our customers.
Looking to the future, both Damon & Mark intend to set the benchmark for providing quality electrical, plumbing, drainage & underground services to all our clients throughout the entire South Island. They look forward to bringing our customers, suppliers & staff along for the ride and perhaps even the odd beer after work……
Our values are what make us tick, they are the approach we take to everything we do.
Honour, Connection & Dedication are the backbone of the service we provide. We go the extra mile to bring expertise & local knowledge to our clients, wherever they are in the South Island & the commitment & adaptability displayed in the delivery of our projects has established the trust our clients have in us today.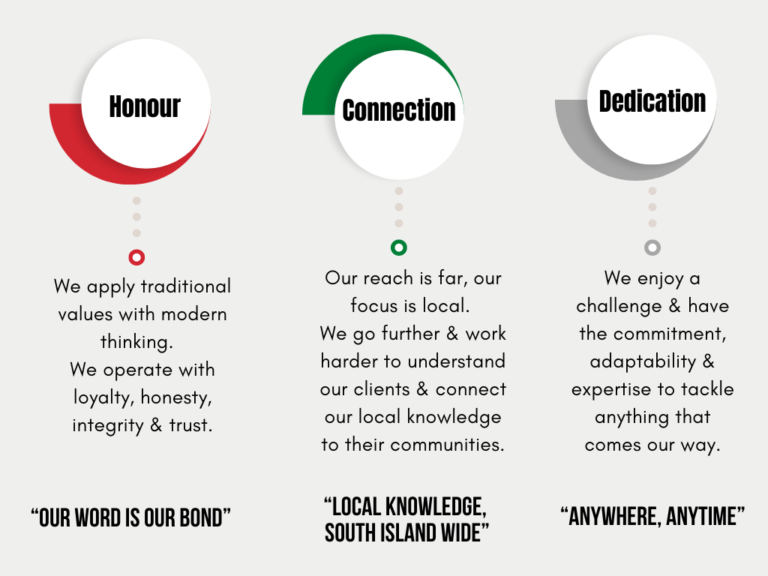 Working alongside our extended family we also utilise their experience, services & procurement levels to provide you with the confidence that we will be there when you need us.
Company Profile - South Island Electrical

Company Profile - The Heat Pump People